Are these scam coins? SHIB and SQUID
Nov 04, 2021
Disclosure: You should assume any links in this blog post are 1. affiliate links, 2. links to our own products, or 3. links for your convenience. We only recommend products that we whole-heartedly endorse and any commissions earned from your purchases do not increase your costs.​​
It happened again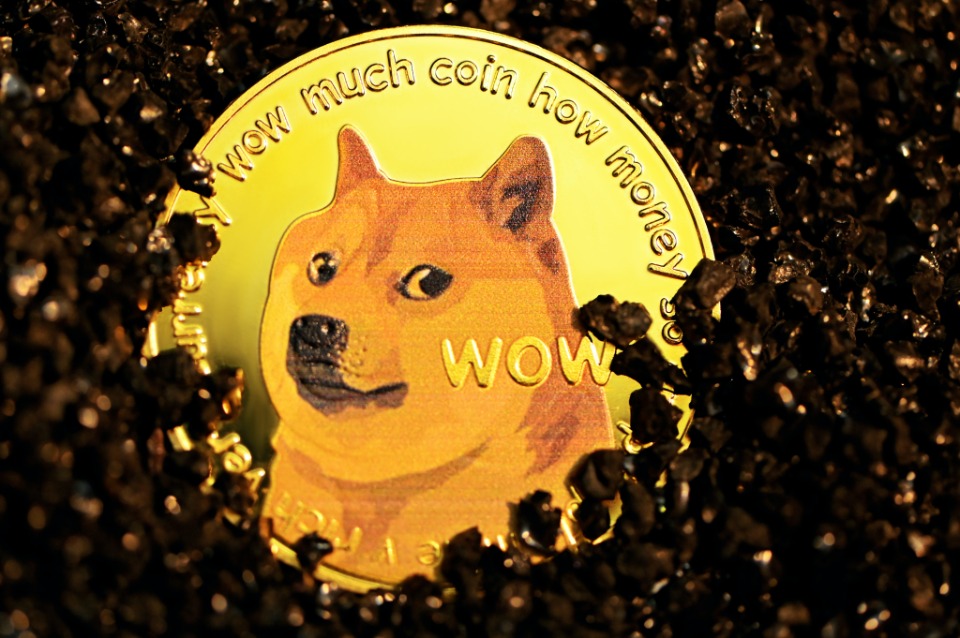 Last week, the crazy wild market action was focused on Shiba Inu, a memecoin invented fourteen months ago that surged, over the space of a few days, to have a larger market cap than its rival Dogecoin.
All the excitement started around October 23rd when the coin was worth $0.000028 cents. Suddenly the coin took off, finally peaking around $0.000084 on the 28th of October.
Fortunes were made!
People bragged about their winnings to their aunts who then put money in!
I convinced my aunt to invest her life savings in Shiba Inu –
but she's just 'lost' £35k in one day & won't speak to me
And then, just as fast, fortunes were lost.
The coin quickly dropped in value from $0.00008 to $0.00006, a 25% haircut, before bouncing around, as these things do.
Today the coin is hovering around $0.00005.
People who got in late lost a lot of money.
I heard about Shiba Inu back in June. I actually used it for one of my first demo bots on Bitsgap. It was not moving very much at the time. Bitsgap is a lot of fun because they give you some "play" money to practice "papertrading". I used about $3000 of my pretend money to set up a demo bot that ran for 30 days before the simulation automatically stopped. When the bot closed on July 22nd, it had lost about 1% in the value of the coins but I had made about 11% ($328) in bot payouts. The results were not bad, but I usually look for a higher return in my bots so I decided to pick some other coin pairs for my real bots.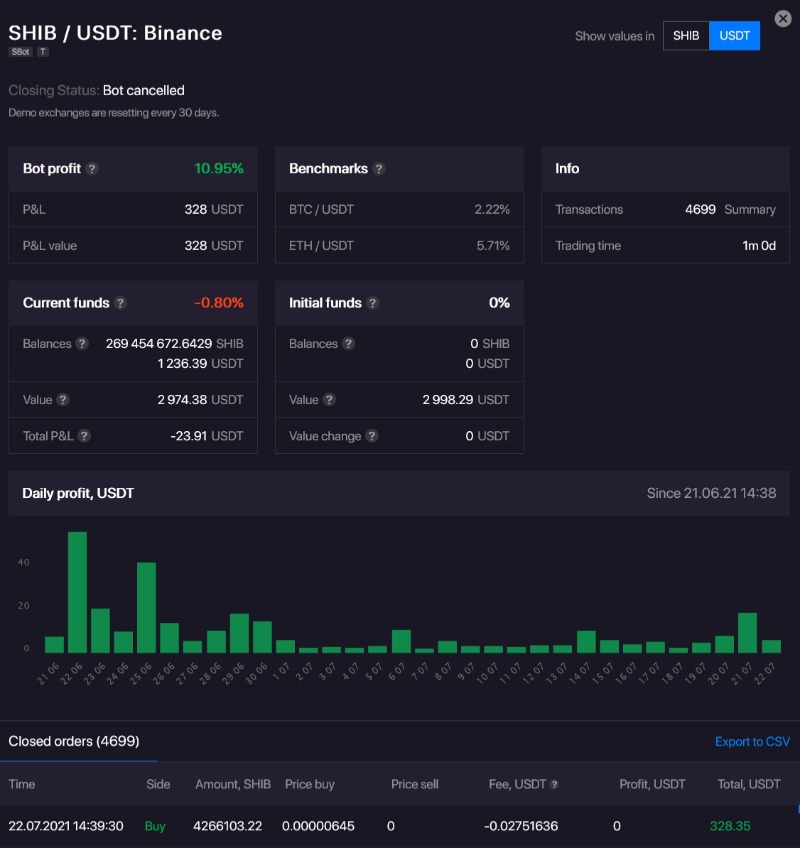 So when we were talking about the idea for this article following the recent excitement, I remembered my demo bot from last summer and wondered about the details. As you can see in the picture above, when I went to check the details in the history, I discovered I had about $1800 (269 454 672 units) of SHIB left in my demo account. Since it went from about $0.000007 to $0.00007 (about 10x in value!), you can see in the picture below I now have listed in my demo account over $17K worth of SHIB (last week). It even went to $20K a couple days later!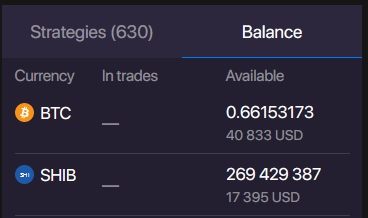 I was obviously disappointed that this was only play money. I imagined all the things I could do with this money now by re-investing in other bots or buying other coins which have a better future. There are probably a few people who made a lot of money (if they managed to sell before it dropped again), because I see a lot of hardcore fans out there. But many more innocent speculators will lose by piling onto the train when it's too late.
Like they say, don't try to correct an earlier 'mistake' by making another 'mistake'.
Another One Bites The Dust
As if that wasn't bad enough, this week has yet another cautionary tale.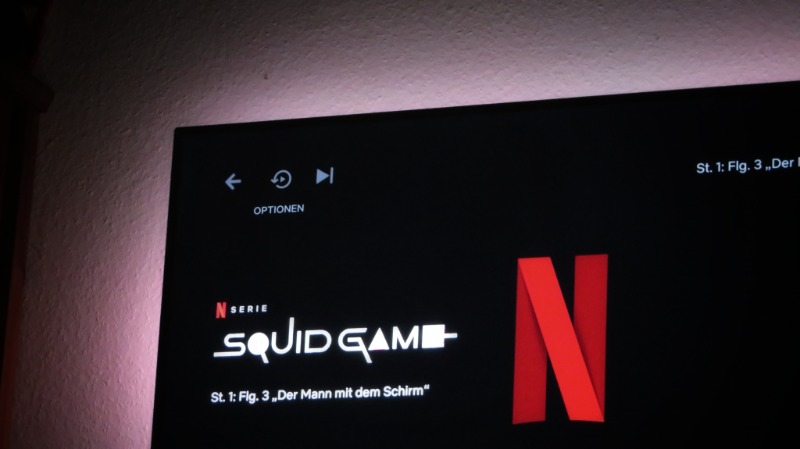 https://www.coingecko.com/en/coins/squidanomics
According to Coingecko, Squidanomics is a token launched on the 18th of October. This token was created as a fan token for the Netflix show Squid Game which promised to have future game benefits.
On November 1st, the coin suddenly increased from practically nothing to $38 each to $2856…
And then crashed to $.0008 in the space of ten minutes when the inventors of the token cashed out $2.1 million.
Squid Game crypto plunges to $0 after scammers steal millions of dollars from investors


The Rug Pull
According to CNN Business, this kind of event is called a Rug Pull: when a crypto's creators cash out and completely devalue the coin.
Apparently there were some good warning signs which you can use before you decide to invest in something this risky:
They threw up a quick webpage, apparently full of spelling mistakes – clue #1

Investors could purchase the coins, but they could not sell them - clue #2
If you're tempted to jump into one of these crazy coins that is rocketing up to the moon, here's some free advice:
Go ahead, purchase it! But by all means, don't spend more than $5 or so. Be prepared to lose every cent of your bet. But if you see it rocket way up and make you $100 or $1000, cash out now before the winnings evaporate!